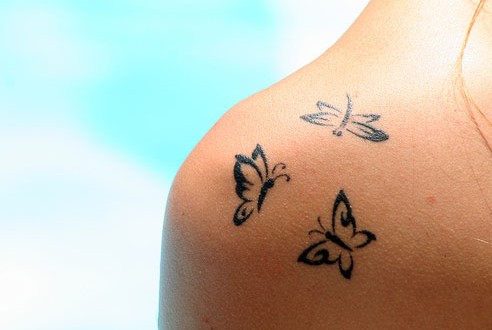 Treatment Detail
Overview
Tattoo removal for body tattoos and permanent cosmetics.
Tattoos have become a very popular way of permanently modifying our appearance however as time passes we can come to regret the decision. What seemed like a good idea at the time can cause problems in later life. An unwanted tattoo can lead to psychological distress and cause difficulty in social and work environments.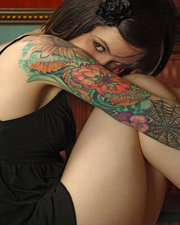 e-raze tattoo removal utilises a specially designed inorganic chemical remover developed by Rejuvi Laboratory California USA which is applied in the same method as the original tattoo, it's designed to draw the tattoo pigment out of the skin, removing the unwanted tattoo.
Rejuvi tattoo remover can only be applied by an experienced tattoo or micropigmentation artist, it is not suitable for home tattoo removal use, it is not a DIY fade product.
A body tattoo can be removed on average in around three to four treatments, while permanent makeup can usually be removed in a single treatment. e-raze tattoo removal is equally effective on all tattoo colours and is effective on both professionally applied and most home made tattoos.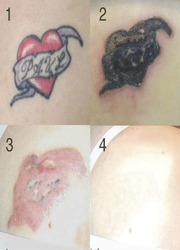 Tattoo removal Treatments are spaced at 8-12 week intervals and larger tattoos may have to be divided into sections for subsequent treatment.
What Are The Advantages Of Rejuvi Tattoo Removal?
A lot less painful than most other methods of tattoo removal.
Suitable on amateur and professional tattoos as well as permanent makeup.
Is not color selective, Rejuvi will work on all pigment colors.
Cheap compared to other tattoo removal methods.
Quicker than laser removal.
Less scaring than dermabrasion.
Higher success rate than laser treatment.
More effective than topical creams.
Prices
Prices start at £90 for a small tattoo & go up to £300 for larger tattoos.
If you have a very large tattoo that requires treatment, it is best to be treated in multiple small sections to aid healing For this reason we cannot give quotes over the phone or by email
FAQ's
Does it hurt?
The treatment is very similar to being tattooed. We will be able to apply topical anaesthetic to help numb the skin prior to treatment
---
Does it work?
Due to the unique nature of every tattoo, removal cannot be guaranteed, however the success rate of body tattoo removal is around 92% while for permanent cosmetics is 100%. Based on data from cosmetic dermatology trial 2001, (removal defined as no appreciable colour remaining after 1 treatment). New treatment methods now use multiple treatments over a greater timeframe for better results and lower risk. The eventual success can be effected by the condition and circumstances of the original tattoo.
---
Will it leave a permanent scar?
There is no method, product or technology in existence that can remove a permanent body tattoo without some risk that scarring will occur. As with any process that breaks the skin there can be a risk of scarring. The removal process is well tolerated by the skin and the scarring rate in a published series of 98 patients (Cosmetic Dermatology April, 2001) was 0% for permanent makeup and 6% for body tattoos compared to laser with a 5% chance that a permanent scar will form.
New treatment methods are more conservative so the risk of scarring is reduced. Usually if you did not suffer any complications when the tattoo was originally applied, do not suffer from hypertrophy or keloid scarring and the treated area is cared for properly then the risk of scarring should be minimal. If the original tattoo has been applied poorly, (tattoo is scarred or raised or has become very blurred) or other methods of removal have been attempted removal can be more liable to scarring.
---
How long does a treatment take?
A treatment takes around 45 to 60 minutes to cover a 2×2 inch square area 5×5 cm2.
---
What's in the removal cream?
The removal cream has been specifically developed for the purpose of removing tattoos by bonding with the tattoo ink and causing its expulsion from the body. The remover is inorganic thus it cannot be absorbed or broken down by the body. It is also a mild alkaline solution (9.5-9.8 ph Many of the ingredients can be found in common food and cosmetic products.
The ingredients in order of quantity are as follows Water (carrier solution), zinc oxide, magnesium oxide, calcium oxide (inorganic oxides to bond with pigment particles), n-propanol (solvent for drying), Triethlaomine (PH balancer),benzoic acid (Product preservative). Only a very small amount of cream is required per treatment typically less than 2-3ml most of which does not penetrate the skin, exposure is minimal and chemical concentrations in the cream present little or no risk. The treatment has been approved by various health and safety officers around the UK.
---
If you tattoo the removal cream in does this mean it gets left in the body rather than the tattoo?
No, the removal cream is designed to bond with the tattoo ink and extract the ink to the skin surface. It does not replace the tattoo and it does not remain in the skin. It is not a skin coloured cover up tattoo.
---
Is this treatment suitable for me?
The treatment is suitable for most people, however a through consultation is carried out prior to any treatment. Generally if you have tolerated the original tattoo process then this treatment is very similar. Treatment should not be carried out during pregnancy or breast feeding (due to aftercare considerations such as potential infections and medications). Certain other medical conditions may be a bar to treatment, make it necessary to postpone treatment or seek further clarification from your GP. Darker skin types are more prone to keliod scarring and this process is not recommended for those whose skin type is 5-6 on the Fitzpatrick skin type test. This can be discussed at the consultation process.
I have a home made tattoo, will this system work on that?
Yes, usually the ink in home made tattoos is less resilient than that used in professionally applied tattoos and can be removed very easily, however unlike professional tattoos ink depth can be very random which may make additional treatments necessary.
---
I have permanent make up, can this system remove that?
Yes this treatment will completely remove permanent make up, the only place its not suitable for is sensitive areas near the eyes, or where there is a risk of moisture contamination (lips).
---
Can all pigments be removed?
Yes the process acts upon all pigments equally, unlike laser which is ineffective against certain pigments. The success rate of tattoo colour removal is 100% for permanent makeup and over 92% for body tattoos.
---
How many treatments will it take to remove my tattoo?
On average most tattoos can be removed in three to four treatments depending on size and location. However as every tattoo is different this can vary from less to more treatments, depending on tattoo condition and circumstances. Large tattoos will need to be broken down into sections for treatment. Continuous bands (arm band) cannot be treated in one session.
---
How frequently can I have the treatment?
It will generally take around 2 to 3 weeks from the initial treatment for most of the crusting to fall away, normally after around eight to twelve weeks the area is healed sufficiently for further treatment. You may also take breaks in the treatment without effecting the outcome.
---
How soon will I see the results?
This treatment is very effective at removing body tattoos and permanent makeup. The crust that forms over the area should primarily take on the colour's of the underlying tattoo, as the crust falls away it will take the unwanted tattoo ink with it. It is likely that parts of the tattoo will be almost completely gone on just the first treatment. Your tattoo can be completely removed in just a matter of months, compared to years that it takes with laser.
---
Can I have this treatment if I've had laser treatment?
It is possible to treat tattoos that have previously undergone laser treatment. However laser can cause chemical changes in the pigments and sub-dermal scarring which can effect the e-raze treatment. It is perfectly safe to have laser or other treatments on your tattoo after it has been treated with the e-raze system once suitably healed. If you have recently had laser treatment then it will be necessary to wait eight to twelve weeks for it to heal before treatment.
---
I just got this tattoo and I instantly hate it, what can I do?
The remover can be applied mid tattoo for immediate reversal, if you are in the middle of getting artwork applied which is not what you specified or imagined then stop and discuss this with the artist. Once the skin has resealed, then unfortunately the skin must be allowed to recover from the process which takes around eight to twelve weeks. Treatment to early may cause unnecessarily high trauma to the skin which can lead to scarring.
---
I'm getting married, job interview etc. next month can I get rid of this by then?
While the treatment is very fast, unfortunately its not a magic wand. As a sequence of treatments are normally required and the area will take at least six months after finishing treatment to begin to return to normal you can reasonably expect for it to take at least twelve months or more to resolve a tattoo. Otherwise you may reduce the visibility of a tattoo which may make it easier to temporarily cover up with make up. Employers may look favourably upon your circumstances if you are already undergoing removal, although we would recommend you discuss this directly with them before embarking on any treatment.
---
Are there any lasting side effects?
There have been no lasting side effects documented arising out of the removal treatment. The area may be sore for around a week after treatment and following the final treatment the area may appear slightly redder however this should fade to the normal skin colour after a few months. None of the cases in the Cosmetic Dermatology April, 2001 study of 98 patients demonstrated destruction of the skin's natural pigment unlike laser where hypo pigmentation and hyper pigmentation can be more common.
---
Who developed the removal cream?
The tattoo removal cream is developed by Rejuvi Laboratory San Francisco which was founded in 1988 by Dr. Wade Cheng, a distinguished and renowned biochemist in the San Francisco Bay Area. Dr. Cheng has an extensive multi-disciplinary background in biochemistry, pharmacology, chemical engineering and Oriental herbalogy. Working closely with his former professor, Dr. Arthur Furst, a leading research scientist, the team created the Rejuvi product line, Rejuvi Plus Botanical line and Rejuville Anti-aging hair care line.